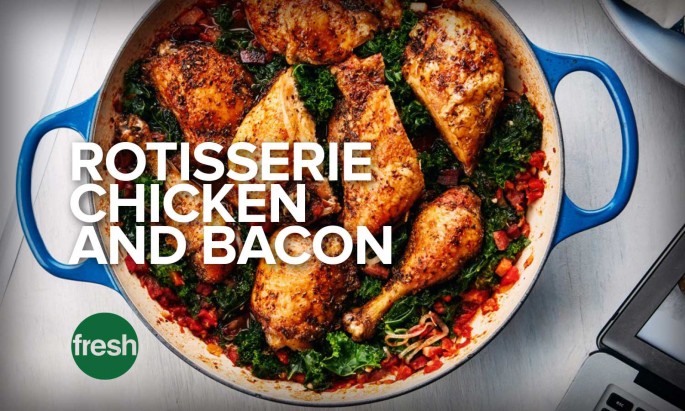 Rotisserie Chicken and Bacon
Picking up a fresh and delicious rotisserie chicken from our kitchen is an easy take-home meal. This week, rotisserie chicken is only $4.99. But let's also combine that with John Morrell Sliced Bacon, only $4 for two packs right now. Together with some kale and tomatoes, you get a creation worthy of the experts at Epicurious. 
Here are the ingredients:
• 2 teaspoons olive oil
• About 4 strips of John Morrell Bacon sliced crosswise into 1/4" strips
• 2 shallots, thinly sliced
• 1/3 cup dry white wine
• 2 garlic cloves, finely chopped
• 2 teaspoons finely chopped rosemary
• 1 (14-ounce) can diced tomatoes
• 1 cup homemade chicken stock or low-sodium chicken broth
• 1/2 teaspoon kosher salt
• 1/4 teaspoon crushed red pepper flakes
• 1 rotisserie chicken, cut into 8 pieces
• 1 bunch curly kale, ribs and stems removed, torn into bite-sized pieces
• Crusty bread, for serving
Instructions:
Heat oil in a large skillet with a lid or braising pan over medium. Cook bacon until fat starts to render, about 5 minutes. Add shallots and cook until shallots are soft and fat is rendered from bacon, 8–10 minutes.
Increase heat to high and add wine, garlic, and rosemary. Cook, stirring, until wine is reduced by half, about 1 minute. Add tomatoes, chicken stock, salt, and red pepper flakes and bring to a boil. Reduce heat to medium and nestle chicken pieces, skin side up, in sauce. Top with kale, cover, and cook until kale is wilted, about 6 minutes. Stir kale into sauce and cook, uncovered, until chicken is warmed through, about 5 minutes more. Serve with bread.