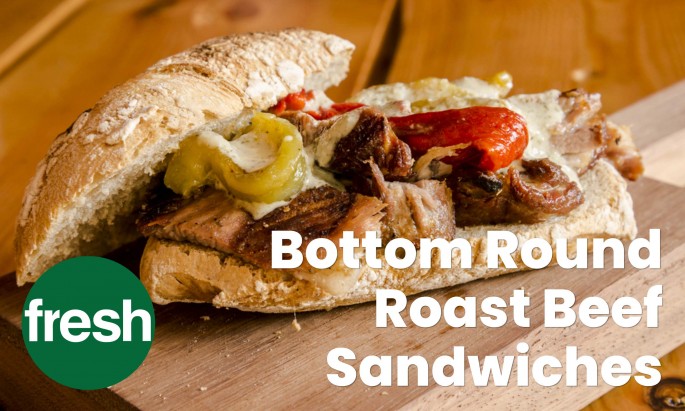 Bottom Round Roast Beef Sandwich Recipe
Rumor has it the origin of the roast beef sandwich dates back as far as 1877 with Boston roots. Get a load of this easy recipe for a twist to the classic! The Bottom Round Roast Beef Sandwich is a quick, delicious BBQ treat with a homemade barbeque rub and herb crust, with toppings according to your style. All the fixings–most on sale–are available this week at Fresh!
Bottom Round Roast Beef Sandwiches
https://pitbarrelcooker.com/blogs/food/bottom-round-roast-beef-sandwiches
Prep: 15 minutes
Cook: 75 minutes
Total: 1 hour 30 minutes
Servings: 10
Nutrition Facts (per serving)
Ingredients:
DRY RUB

2 tbsp. black pepper
2 tsp. salt (omit if dry brining)
2 tbsp. turbinado sugar
2 tbsp. paprika
1 tbsp. garlic powder

HERB CRUST

⅓ cup fresh parsley
¼ cup fresh thyme
¼ cup fresh rosemary
6 garlic cloves
1 tsp. kosher salt
¼ cup olive oil (approximate, add until paste forms)

OTHER

3 lb bottom round (or eye of round) ($2.99 per lb. Angus Pride Boneless Bottom Round Roast, this week at Fresh)
10-12 hoagie or sandwich rolls (2/$7 16oz. LeBrea Fench Loaf, this week at Fresh)
3 onions
3 bell peppers or hot peppers (or mix) ($3.99 3 pack Tri Color Peppers, this week at Fresh)
3 tbsp. Butter (2/$6 16oz. Challenge Butter, this week at Fresh)
Other sauces and toppings (MANY Cheese sales this week at Fresh)
Directions:
Trim bottom round as needed per preference.
Use a grill or stove top, whatever you have available.
Apply dry rub and let it set and adhere to the beef while you mix together all ingredients for the herb crust. Apply herb crust by patting onto the surface of meat and place on the grill/pan.
Prepare toppings. Slice 3 large onions into rings and place in a cast iron skillet with butter.  Add salt and pepper until they are softened and browned. Place bell peppers and hot peppers on the grill/pan until softened and browned.
Remove meat when it reaches desired doneness. (I smoked to medium, removed at about 135°, since cooking this cut of meat past medium may result in a tougher result.)
After a rest, slice thinly for sandwiches. Use a meat slicer if you have one, however, it is not necessary.
Warm sandwich bread or hoagies on grill/pan while preparing your favorite toppings and sauces.
Top the warm bread with the sliced meat, sautéed onions, smoked peppers and additional toppings such as cheese, mushrooms, hot sauce, mustard or horseradish cream sauce. Can be served with fries or chips.