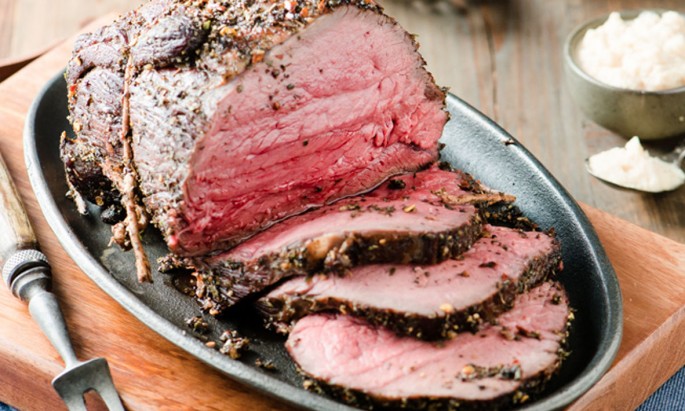 The Best Sirloin Tip Roast
Enjoy one of the best recipes we have tried for a Sirloin Tip Roast. This really is quite delicious.
Sirloin Tip Roast
From The Adventures of Bob & Shan
Prep time:15 mins
Cook time:2 hours 15 mins
Total time:2 hours 30 mins
Serves:4
Ingredients
2.5 lb sirloin tip roast
1 tsp table salt
1 tbsp olive oil
1 tsp pepper
2 tsp dried oregano
2 tsp dried basil
1½ tsp crushed red pepper or chili pepper flakes
3 larges cloves of garlic (minced)
Instructions
The day before roasting, salt your roast with a teaspoon of table salt, evenly rubbing the outside of the roast.
Once salted, tightly wrap the roast in plastic wrap, and allow to rest in the fridge overnight.
The next day, take the roast out at least an hour before cooking, allowing it to warm to room temperature. It's very important to have the roast near room temperature, since cooking a cold roast will result in uneven cooking, and likely undercooking.
Once the roast has come to room temperature, unwrap from plastic wrap, and pat dry with paper towel.
Preheat oven to 250F.
While oven is preheating, on your stove, get a heavy bottomed pan (cast iron is preferred) on medium-high heat, with about a tablespoon of olive oil.
Once heated (the olive oil should just be starting to smoke), place the roast in the pan, allowing it to get a golden brown sear on each side (this will take about 3 minutes per side).
While roast is searing, assemble your spice rub, mixing the minced garlic, oregano, basil, pepper, and crushed red pepper flakes.
Once the roast is seared on all sides, remove it from the pan, and rub evenly with herbs.
Insert oven-safe meat thermometer into the roast, place on a baking tray with a rack, and place in the oven.
Cook the roast for about an 1 hour and 20 minutes (If you're using a larger roast, the timing may need to be increased), or until the roast reaches an internal temperature of 120F for medium-rare, or 130F for medium.
Once the roast has reached 120-130F (depending on desired doneness), turn off the oven and let the roast rest inside the oven, 30-40 minutes, until the temperature rises to your final temperature (around 130F for medium-rare, or 140F for medium). Do not open the oven door at this time, as you want to keep all the heat inside to let the roast continue cooking.
Once the roast has reached your desired temperature, remove from the oven and allow to rest about 10-15 minutes before serving.
I would strongly recommend buying a meat thermometer for this recipe. If you're roasting any piece of meat that is at least $15, it is well worth the small investment to ensure things are properly cooked!